Rye Yacht Club
Milton Harbor
Rye, New York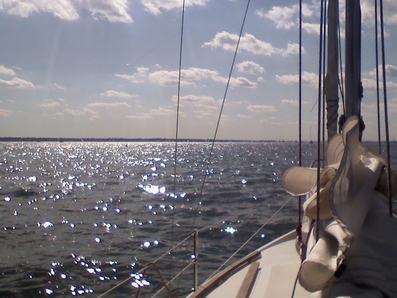 Rye Yacht Club exists to enhance the skills and enjoyment of sailors, powerboaters and oarsmen.
Rye Yacht Club is open to new members and members of other local yacht clubs where reciprocal privileges are offered.
RYC is a social organization whose mission is to share the love of boating. Membership is free. 200+ members and growing!

JAWS II is a 50' Viking Princess.
 Our message board serves to assist local sailors, powerboaters and oarsman:
find boating information
find the best fishing spots or a fishing buddy
organize a sailing regatta
find suitable crew for day trips or longer
plan trips with other members: a nice beach, restaurant, day trip, weekend away or vacation
find a kayaking or rowing buddy, or coxswain
find local boat contractors - all listings are free
(non-boat owners who want to crew may also register)
Miami Sailing in Coconut Grove. More info: sailing@ryeyc.org
Sample MESSAGE BOARD available to registered members:
Name
Contact Info
Boat (sail/power)
LOA
Day Sailing: Days/Times/Duration
Trips Planned
Crew Preferences
Captain M.
capt@aol.com
sail
28
Friday afternoons, Sunday
mornings
none
1 or 2 adults
Captain K
K@gmail.com
power -grady white
22
Wednesdays 4 hrs fishing
NYC - July
adults & kids
Email to become a Free Member & use our Message Board - Click here

---
Rye Yacht Club
somewhere in Milton Harbor Rye, NY
Email
Also visit NYCboatShow.com
Copyright 2021 Rye Yacht, Inc.